We bring exceptional care to the community, redefining healthcare, and putting the patient's needs first
You owe it to yourself to live a resilient, healthy life. We will give you the opportunity to break through the barriers that have prevented you from becoming your best self.
We believe that we can transform health and create an ideal partnership with our patients and communities if:
Patients shift their mindsets and are willing to invest in their health

Rezilir Health™

invests with patients by bringing the best medicine that is available today to create customized game plans for patients
Patients and

Rezilir Health™ 

work together to create optimum health
What will this investment mean to you? It means you will have:
Hope and better health.
Lifestyle information about food, exercise, stress, sleep, and more that will both improve your health and help save your families' medical budget.
Lower health care costs that under the right health insurance framework can reduce premiums
Rezilir Health™ Remission of Alzheimer's Disease (ROAD) Protocol
Fear of losing brain health is the #1 concern of our aging population and justifiably so as Alzheimer's is the third leading cause of death in America. The pharmaceutical industry has been searching for the "silver bullet," a single pill that can cure Alzheimer's. There have been over 200 drugs that have been tested in isolation the past decade, none of which has resulted in dramatic improvement of memory or function.
A fundamentally new approach is needed. Luckily, it has arrived.
Ongoing medical research is showing that there is new hope for patients with mild cognitive decline and early Alzheimer's disease. Changes in lifestyle health behaviors – food, exercise, sleep, stress management, learning and social connection – have been shown in randomized clinical trials to have more impact on disease outcomes than pharmaceuticals (the FINGER study). The prestigious Institute of Medicine endorsed changes in these lifestyle behaviors in a recent review in June 2017.
Addressing the root causes of early cognitive decline can be a robust strategy to optimize overall health and hope for symptomatic patients. All of our clinicians are now certified in the ReCODE ™ Protocol so that we can offer services that will help you remain cognitively sharp, emotionally strong, purposeful, and happy. Our doctor, Craig Tanio, MD, was featured in the New York Times #1 best seller, "The End of Alzheimer's" for his participation and contribution to the ReCODE ™ Protocol for Alzheimer's and Cognitive Health. 
We have also developed our own ROAD (Remission of Alzheimer's Disease) program that draws from the protocol as well as additional insights from other research. We start with a six-week evaluation process where you receive an in-depth evaluation and have over 100 different prioritized tests of metabolic parameters. We do a customized assessment for each individual that uncovers the root causes of their memory problems. Testing includes assessment of genetic risk factors, inflammation, insulin resistance, nutrient deficiencies, hormones, toxins, cognitive function and brain imaging including MRI volumetrics. We then develop a highly-customized game plan that includes lifestyle changes, brain training, nutritional supplements as well as medications when necessary.
Then the work begins. With ongoing support and help of the physician, nurse coach and broader clinical team, we work to improve your overall health through changes in lifestyle and specific initiatives to optimize your metabolism. Usually our patients first notice that the rate of their cognitive deterioration slows or stops. Any improvement in cognitive functioning is a very promising initial response. Often it may take a good 3-6 months of treatment before noticing symptomatic changes. Our experience over the last year is that eligible patients who follow our program stop deteriorating and feel healthier greater than 90% of the time and start to improve their cognitive functioning more than 60% of the time.
Rezilir Health™ Brain Health & Alzheimer's Prevention:
One out of four Americans' are at higher genetic risk of getting Alzheimer's. If there is a family history of dementia or if you have any early symptoms of forgetfulness, you owe it to get your ApoE4 and other factors checked early – before it becomes more difficult to reverse. We develop a customized protocol that will help you maintain good health and memory built around our more intensive Alzheimer's protocols. Ongoing research findings are showing that prevention can be most effective in individuals with early symptoms or no symptoms. Early knowledge can play a significant role going forward in slowing the progression of disease or preventing it entirely! If there are more significant findings discovered on the prevention program, the full cost of the program is applied to the Alzheimer's reversal evaluation.
The brain is what inextricably makes us human. At Rezilir™ we believe that brain health is at the same stage as physical fitness was 3 decades ago. There is increasing technology to measure health and we have increasing ways to optimize the health of the brain. Our brain health programs help patients address specific metabolic issues and optimize their overall brain performance.
What should you do next? We have 3 suggestions:
Get screened – we have an easy screening program that looks at genetic risk and your cognitive function
Learn more about a healthy brain lifestyle — we have multiple approaches including seminars and one-on-one coaching to teach you the key components of brain health.
Go through the full ROAD program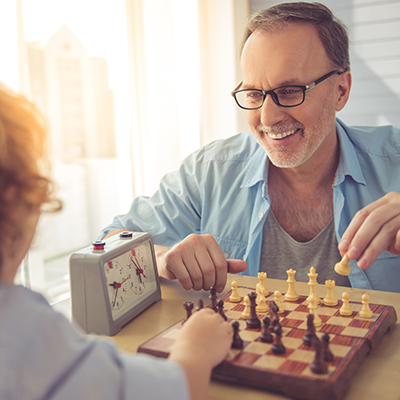 Rezilir Health™ Functional & Integrative Medicine

We combine the best of conventional and integrative medicine and believe this represents the future of medicine. Our model is:

Investigative: It addresses symptoms by focusing on the underlying cause of the problem, which leads to more profound and longer-lasting results.

Holistic: Envisions the body as an interconnected whole that is in dynamic relationship to its environment and recognizes the importance of these connections in health and disease. Our philosophy emphasizes a healthy aging vs. anti-aging approach

Lifestyle oriented: We believe that improving the pillars of health – food, movement, recovery & community allows for the most improvement in people's health.   Sophisticated testing can be used to customize lifestyle behaviors and optimize metabolism rather than following simple protocols

Patient-centered: It treats the patient, not the disease. Treatments are highly individualized based on patient needs. We emphasize healing, hope, and the therapeutic relationship. We work with you to develop an action plan that is customized to your needs and helps you get on the right track towards wellness and optimized health. When that action plan hits reality, we work with you to adjust actions and create practical solutions.

Safety–oriented: We have a balanced approach to therapeutics whether they are lifestyle, supplements, pharmaceuticals or procedures. We seek to emphasize safety and what can work with the individual.

Focused: Even though we combine the "best of both worlds", we currently exclude several alternative medicine practices within our model due to the focus and philosophy of the practice. We don't practice homeopathy, reiki, chiropractic, naturopathy, colonics, or chelation. We don't have an anti-vaccine attitude. We can refer elsewhere if the patient is actively seeking these out and will offer our individual perspectives on the issues.

Results oriented: Many times, we know what we need to do, however, we don't how to do it. Our skilled board certified integrative nurse coaches will work closely with you to get the practical changes to your behaviors and lifestyles that are necessary. Their skills in nutrition, emotional health, stress management and health behavior change all come into play as they develop a personalized and customized plan. When that plan hits reality and requires changes, our coaches are available through email, text, phone and video conference to help you in real-time to make changes.

Rezilir Health™ Women's Health

At Rezilir Health™, our approach to women's health appreciates the interconnectedness of mind, body and spirit for achieving overall wellness. Throughout the life cycle, a woman experiences dynamic changes, which may include preparing for pregnancy, childbearing, peri-menopause and menopause. Changes can vary dramatically and affect each woman differently. Hormone variation and concurrent life stressors that are part of living in today's modern world can result in a myriad of symptoms and potentially, a decline in health. The complexity of these processes requires a comprehensive approach to maintain health, prevent disease and thrive throughout life.

Rezilir Health's™ individualized health optimization programs considers each woman's unique needs, include stress management, nutritional and environmental assessment and balancing of hormones. We focus on health promotion and disease prevention, such as cardiovascular disease, diabetes, autoimmune disease, dementia and cancers, including those exclusive to women, such has breast and uterine cancer. Many of these issues have not received sufficient attention by conventional medicine approaches.

We have particular expertise in hormone related conditions and in sex, thyroid, and stress hormone balancing using bioidentical hormones when indicated. With a systems-based approach, we address symptoms, such as anxiety, joint pain, weight gain, mood swings, insomnia, food cravings, menstrual difficulties, hot flashes and others, by searching out and focusing on the root causes using the best of traditional and holistic therapies.

Rezilir Health™ Reversal of Chronic Disease

We believe that much of the increase in chronic disease over the last 20 years is due to a mismatch between our existing genes and our diet and lifestyle. For example, more than 60 percent of the calories in the standard American diet comes from foods that did not exist 100 years ago. As a result, we need to realign your lifestyle and environmental exposures so that your genes can express themselves towards health, not disease.

There is a substantial amount of evidence from randomized clinical trials that an integrative and functional approach can often not just treat disease but reverse disease progression. Cardiovascular disease, diabetes, autoimmune disorders, gastrointestinal disorders, mental health disorders are all areas in which a careful approach to uncovering the root causes and a detailed oriented multidisciplinary approach to addressing lifestyle and health behaviors can show astounding changes in your tests and in how you feel. We work with you to create goals and then together execute a program that achieves those goals.

Rezilir Health™ CIRS (Chronic Inflammatory Response Syndrome) Treatment

Dr. Craig Tanio is the only physician  in Florida that is both certified in the Shoemaker Protocol for mold and biotoxin related illness and the ReCODE™ protocol for cognitive decline. We treat biotoxin-related illnesses in 3 types of people.

Patients who are exposed to water-damaged buildings. As many as 50% of buildings have some degree of water damage. Given recent hurricanes in South Florida, this number has increased substantially. Symptoms can include lung, brain, heart, gastrointestinal and joints among others.
Patients with cognitive decline and Alzheimer's. As we treat patients with cognitive decline, we are finding that a high percentage of people have activation of immune system, also known as type 3 Alzheimer's.
Patients with Post Treatment Lyme Syndrome, Chronic Fatigue, and Fibromyalgia. These patients should be evaluated for CIRS to see if they have physiological changes that can be responsive to the CIRS protocol. If their physiology is consistent with CIRS, we believe they can respond to the protocol.

The protocol is a sequenced, multi-step process that has shown to be effective in numerous scientific publications. If patients follow all of the steps, we can expect a response rate as high as 90%. We are happy to discuss our approach further with you.
Additional Services
Patients
We believe in a collaborative, healing relationship centered around our patient's goals.
CALL US TODAY AT 866.REZILIR